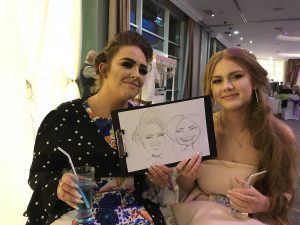 Live Caricatures are a great way of entertaining your guests at various 'intervals' throughout the day. Periods such as, after the ceremony while guests are arriving at your reception and before the evening meal.
I can do a caricature in roughly 5 mins!
'Depends on the face' is the most diplomatic way I can put it. It's great craic even for those not daring enough to sit in The #Caricachair !
The paper I use is A4 ( anything bigger becomes to cumbersome to carry around) and can be personalised to include the hosts/couples names and dates. Each Caricature comes with a protective sleeve and is free to all guests.
Use the link for more details on this service and how to book http://www.idocaricatures.co.uk/faqs/